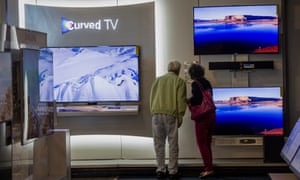 "Thousands of owners of high-end Samsung TVs have complained after a software update left their recently acquired £1,400 sets with blank, unusable screens.
The Guardian has been contacted by a number of owners complaining that the TVs they bought – in some cases just two weeks ago – have been rendered useless by an upgrade sent out by Samsung a week ago.
Others have been posting furious messages on the company's community boards complaining that their new TVs are no longer working.
The company has told customers it is working to fix the problem but so far, seven days on, nothing has been forthcoming. The problem appears to affect the latest models as owners of older Samsung TVs are not reporting the issue.
Samsung TV owners furious after software update leaves sets unusable | Technology | The Guardian