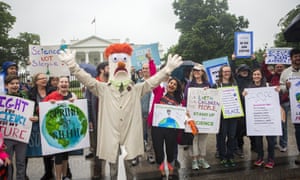 "Hundreds of thousands of climate researchers, oceanographers, bird watchers and other supporters of science rallied in marches around the world on Saturday, in an attempt to bolster scientists' increasingly precarious status with politicians.
Bill Nye the Science Guy on Trump: 'We are in a dangerous place'
The main March for Science event was held in Washington DC, where organizers made plans for up to 150,000 people to flock to the national mall, although somewhat fewer than that figure braved the rain to attend. Marchers held a range of signs. Some attacked Donald Trump, depicting the president as an ostrich with his head in the sand or bearing the words: "What do Trump and atoms have in common? They make up everything."
More than 600 marches took place around the world, on every continent bar Antarctica, in events that coincided with Earth Day."
March for Science puts Earth Day focus on global opposition to Trump | Environment | The Guardian