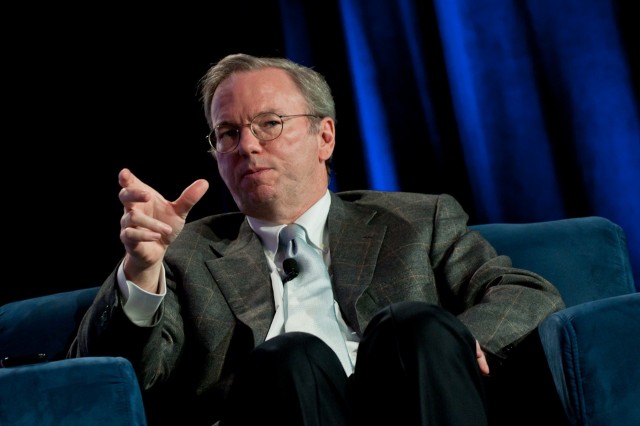 "Eight years ago, Google was on top of the world. People across the political spectrum saw the search giant as a symbol of high-tech innovation. During the just-completed 2008 presidential campaign cycle, candidates as diverse as Ron Paul, John McCain, and Barack Obama had all made pilgrimages to Google's Mountain View headquarters to burnish their reputations for tech savvy.
Even better, Google soon had a close relationship to the newly elected president, Barack Obama. "Google was riding high on the fact that Eric Schmidt was campaigning for Obama," said Siva Vaidhyanathan, a media studies professor at the University of Virginia and a longtime Google critic. "There was a lot of attention paid in the press to the fact that Googlers were starting to work in the White House."
With so many Googlers in government, Google had an outsized influence on policymaking during the Obama years. But today, Google is in a different situation. Most obviously, Schmidt worked hard to get Hillary Clinton elected president, and Clinton lost.
The issues don't end there. Given Silicon Valley's liberal views on social issues and Schmidt's love for Democratic politicians, it was probably inevitable that conservatives would sour on the search giant. But the larger problem for the search giant is that the company has been losing support among Democrats as well.
A growing number of liberal thinkers believes that the concentration of corporate power was a major problem in the American economy. And few companies exemplify that concentration more than Google.
That's the real significance of this week's decision by the New America Foundation, a think tank that's heavily funded by Google, to fire the head of its Open Markets project. For the last eight years, the Open Markets team has been methodically building the intellectual case for more aggressive enforcement of antitrust laws—a project that could easily result in more regulatory scrutiny of Google.
Google is in no immediate danger on that front. Republicans are still largely committed to a hands-off approach to economic regulation, Democrats are out of power, and Google still has plenty of allies in the Democratic Party.
But the longer-term trajectory here could be ominous. The combination of Bernie Sanders-style populism on the left and Donald Trump-style populism on the right could lead to a future where Google faces hostility from policymakers across parties.
"There's been a really big breakthrough," says Barry Lynn, who led New America's Open Markets team before New America fired him. "It's not just the left. Interest in dealing with concentration of power, the fear of concentration of power is across the spectrum..."
Google is losing allies across the political spectrum | Ars Technica